Crypto Wallet ImToken: We Have Reached 9.15mn Downloaded Devices
Chinese wallet Bitpie Wallet recently accused the largest Ethereum wallet ImToken of faking DEX transactions and ImToken responds with data evidence and threatens legal action against Bitpie.
---
ImToken to Bitpie: Stop Slandering Us
Earlier this week, Cryptowallet Bitpie CEO and founder Wen Hao published an article in Chinese, claiming that 99% volume of the daily active users and trading in imToken DEX, aka Tokenlon, were fake. They proceeded to list data showing a series of small ETH transactions of 1, 0.2 or 0.3 on Tokenlon, and claims that these small ETH amounts all came from one single master wallet.
In response to the event, the ImToken team has come out with a response summarized as below. CEO Ben He also wrote a post in Chinese about Tokenlon in addressing some of the slander.
Bitpie has repeatedly, maliciously attacked imToken and Tokenlon in public, so the ImToken and Tokenlon team is coming out with evidence to clear ourselves and demand founder Wen Hao to apologize publicly and remove all false statements. The ImToken team has compiled the collection of evidence and proof, and announced the right to take legal action against Bitpie.
Ever since Tokenlon launched, every transaction has been real and legitimate transactions. In the third week of launch, the company saw 424% growth in users and 24% increase in transactions week over week. That came primarily from users withdrawing from exchanges to their ImToken wallet. They then transfer the tokens on Tokenlon, some to miners, and some to blockchain games.
Here Imtoken presents where all the transactions sources came from. Nearly 80% of users came from centralized exchanges with KYC requirements, which can also be interpreted as real users. The "falsified address" accused by Bitpie is actually the address of the Bit-Z exchange.
Above are the sources of 12,000 wallet address from transaction data since Tokenlon went online. ImToken also asked the security company PeckShield to verify the address authentication. At the same time, Tokenlon has verified the withdrawal wallet address of the Bit-Z exchange and the authenticity of the user withdrawal address. The document and data are public.
Tokenlon also notes the "80/20" principle, with 80% of the trading volume coming from a small number of users.
In the axis below, X-axis represents the number of transactions per address. As you move down through the charts, you can tell that the largest number of ETH transactions (middle chart) comes from just a few addresses. The third chart is ETH transactions by %. the address with the highest number of ETH transactions makes up for almost 4.5% of total ETH transactions on Tokenlon.
---
Cumulative downloads exceed 9mn, 21% increase in downloads
In response to Bitpie, the ImToken team also announced that the cumulative number of devices with imToken downloaded has exceeded 9.15 million, with daily active wallets stabilized to be above 200,000.
Last year, ImToken saw over 7.51million installed devices, which represent a 21% year on year increase in device downloaded.
From newly released data, imToken 1.0 downloads in major app stores on Android (excluding downloads from the official website and iOS versions) totaled 6.6mn downloads, with almost half coming from the app store.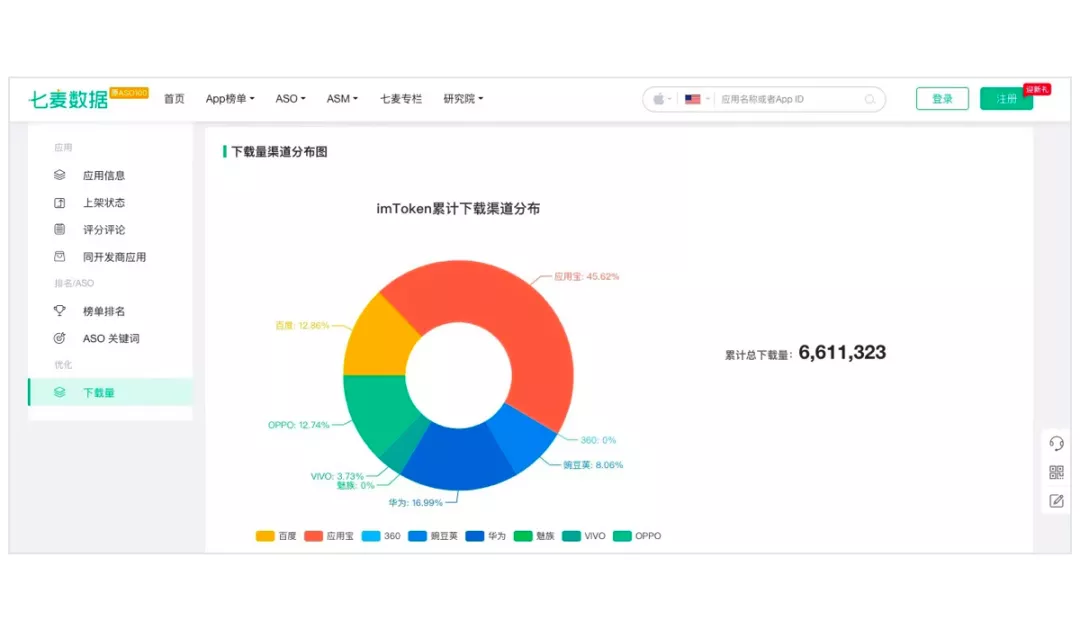 Additionally, , ImToken also addressed Bitpie's accusation of its open source validity. Read the full post in Chinese here.