Overall Markets Down; Chinese Media Wechat Accounts Blocked
The US and Crypto markets have been down today on a combination of macro and local events taking place in Asia: investors re-assessed conflicting signals on prospects for the U.S.-China trade talks while rumors and FUD spread of Binance's Shanghai office getting raided. What was not covered on US mainstream news, which is likely even more alarming for the local Asian retail market is that multiple crypto media Wechat accounts have been blocked overnight.
For one, on Binance, we've heard so many instances of "police raids' in China that haven't resulted in anything substantial. At this point, we think the market should have learned the lesson that police raids have had no real impact on any company but a short term market scare. To appease those who worry, while Binance has an operating office in Shanghai, none of the founders nor senior executives actually are physically there. The founders are not physically in China while the senior executives are traveling or usually out of office and are not based in Shanghai. We think the market is reacting to this news on a ridiculous level.
In the meanwhile, what we think is more important to highlight is that Binance just acquired an exchange in India called WazirX for reportedly $5-10m. The India market is not easy to navigate, the fact that Binance has to acquire an exchange to go to market there tells us it won't be an easy feat navigating the space, but there is a huge pool of hungry tech talent and retail audience. We are excited to see what will happen there.
Now onto the main focus of the article- on the evening of November 20th, some blockchain media account were blocked on Wechat. At present, the WeChat profiles of "??Deepchain", "Coin Circle ????", "???? One piece of hard token" and "????Fry Money Institute ( fry money literally referring to pump and dump)" have been blocked.
These series of news are what we think is a natural progression of China's cracking down on speculators taking advantage of the CPC party's blockchain promotion rhetoric. In particular, this time around, we didn't see many of the reputable media accounts getting blocked like Jinse like in 2018 (read more below about last year's raid).
Wechat has claimed the reason for the each of the media platforms block this time around is: "Users have complained, and when undergoing our platform review, this business is suspected of violating relevant laws, regulations and policies, so the account has been discontinued."
Relatedly, a public account called "????? The Conscience of the Currency Circle" was also affected. The explanation from the team has been "After a large number of user complaints, this account has violated the rules and has been restricted into a side Wechat account."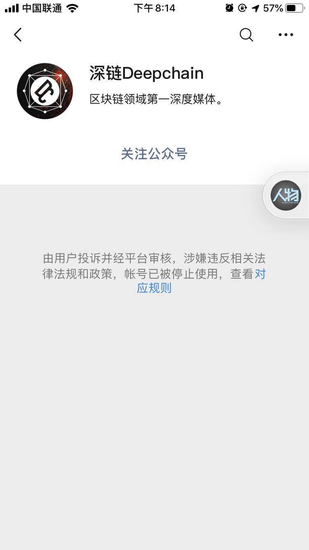 We've seen this type of media Wechat account block happen on a larger scale in 2018. In the August of 2018, we saw real legitimate media platform getting their Wechat accounts blocked- Jinse, Huobi, Bishijie, and over 10 media accounts. Nevertheless, the Wechat team clarified by saying these platforms were sharing ICO and token pumping activities and were against regulations. However, once these platforms, who often are news aggregators themselves, cleared themselves of the distasteful content, they were able to return and operate as usual in China and outside of China.
If you want to really understand what China's trying to do- read China taking its "Sino-chain" initiative more seriously, censoring App Store and Weibo